I went to New Jersey this week to see my parents and collect some downed branches from last week's hurricane. The high winds had torn the leaves from the trees, and big piles sat in the street. Combined with the blessëd ten-degree temperature drop, I was feeling positively autumnal.
Back in the day, the parents in my neighborhood BROUGHT IT for Halloween. My next-door neighbors' stone shed transformed into a haunted house, little, but DENSE with terrors like spaghetti intestines, plastic weaponry, and ambient Halloween SFX. Other years, hayrides took us to bonfires with hot chocolate and apple cider doughnuts. We picked pumpkins always and apples sometimes. We had Mischief Night, which is ding-dong-ditch with toilet paper, plus the lesser-known and much friendlier tradition of ghosting, which was ding-dong-ditch with candy.
Halloween has its perks as an adult. (SPECIFICALLY: The means to get to and pay for items at Michael's. Alcohol. Climate change, i.e. no need to wear a long-sleeved shirt under my costume anymore.) I've gone clubbing in Sapporo snow, danced along to a vampire's rooftop pop concert, joined a fake cult in a haunted house, and watched IT: Chapter Two in theaters four times. (In fact, I watched IT: Chapter Two on a projector in my friend's backyard last night! And I loved it only MORE upon seventh viewing!)
So, yes, the conceit of this newsletter is that Halloween was boring when I was a teen, and the pandemic has put me in a teenlike situation. But I aspire to Halloween heights in my midtwenties only because I glimpsed those heights early on. With hayrides on my mind, I fill my house with hurricane debris and unsafe quantities of glitter.
Now, before we get to the crafts—Betsy pointed out that my newsletter has so far lacked a subscribe button. Well, let me Upgrade U:
Transparent Collage Envelopes
I've wanted to print a collage on translucent vellum since I prototyped a grocery-bag-themed book cover a few years ago. The snack images were loose paper cutouts behind the grocery bag layer, and you were supposed to shake the book like a snow globe. It sort of worked.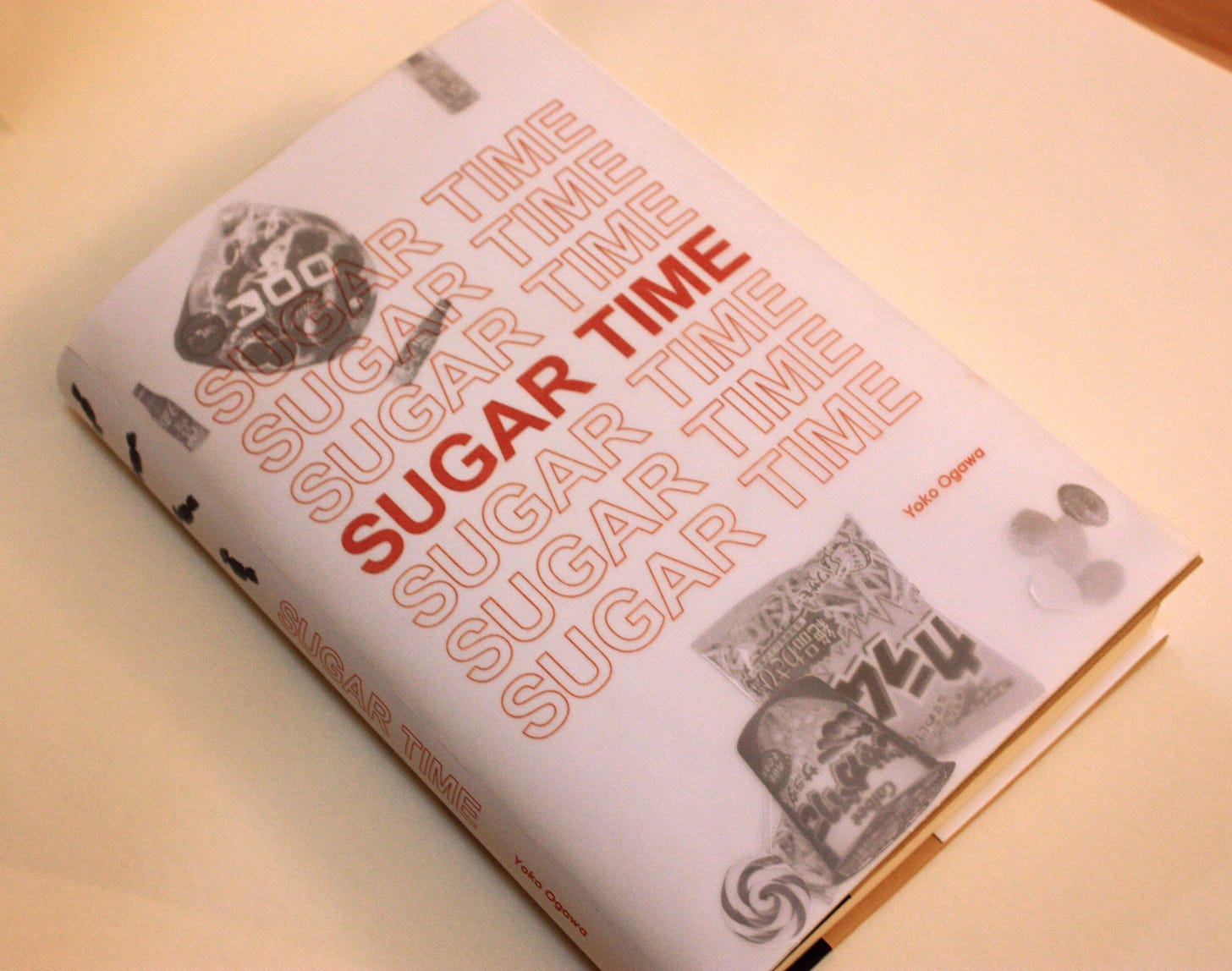 For the collages, I took a threshold adjustment layer, which designates pixels either black or white, to some vintage illustrations in Photoshop. That made it easy to remove the white backgrounds in one go.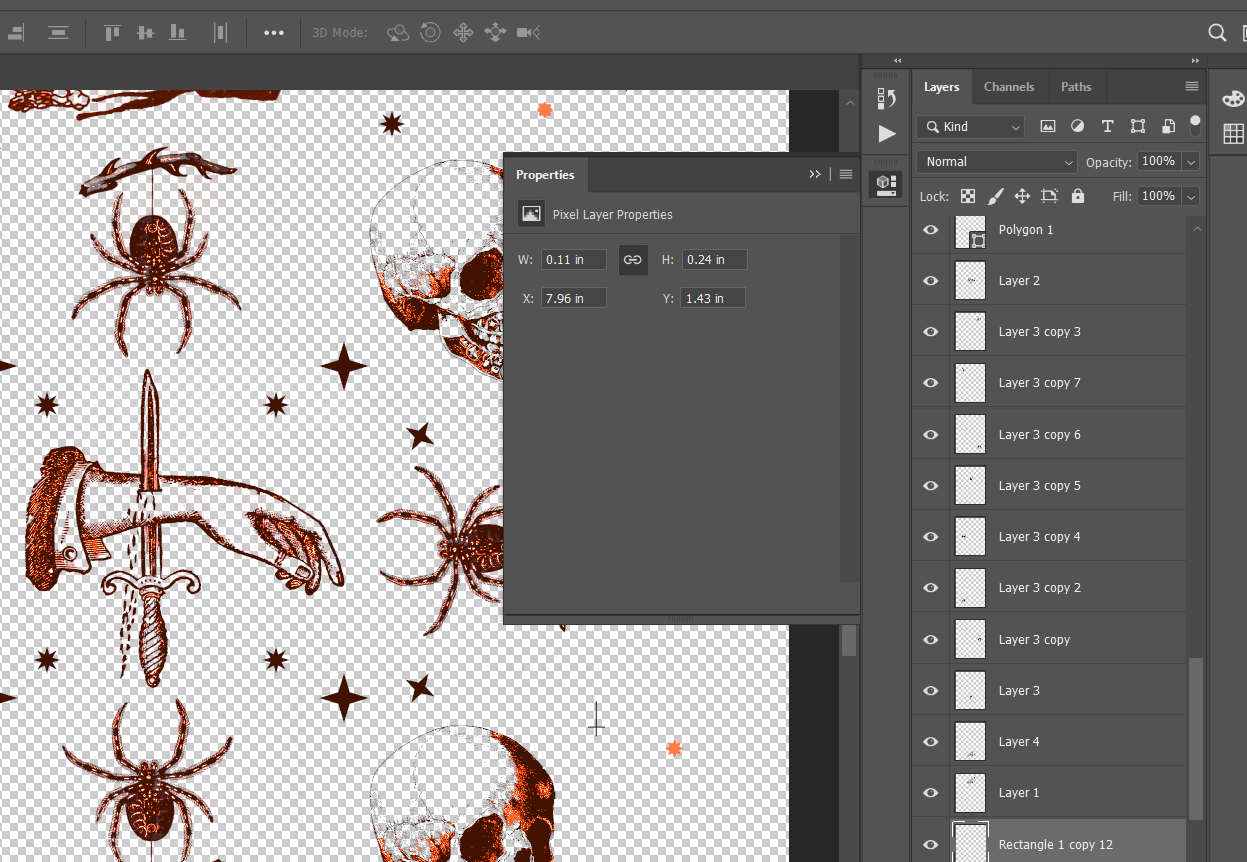 In the image above, I colorized the illustrations with a hue/saturation layer so there would be orange accents, then threw in some stars and upside-down crosses. I made a second design, a black-and-orange plaid plus spiders, and a third, which didn't quite work, of the silliest pumpkins I could find.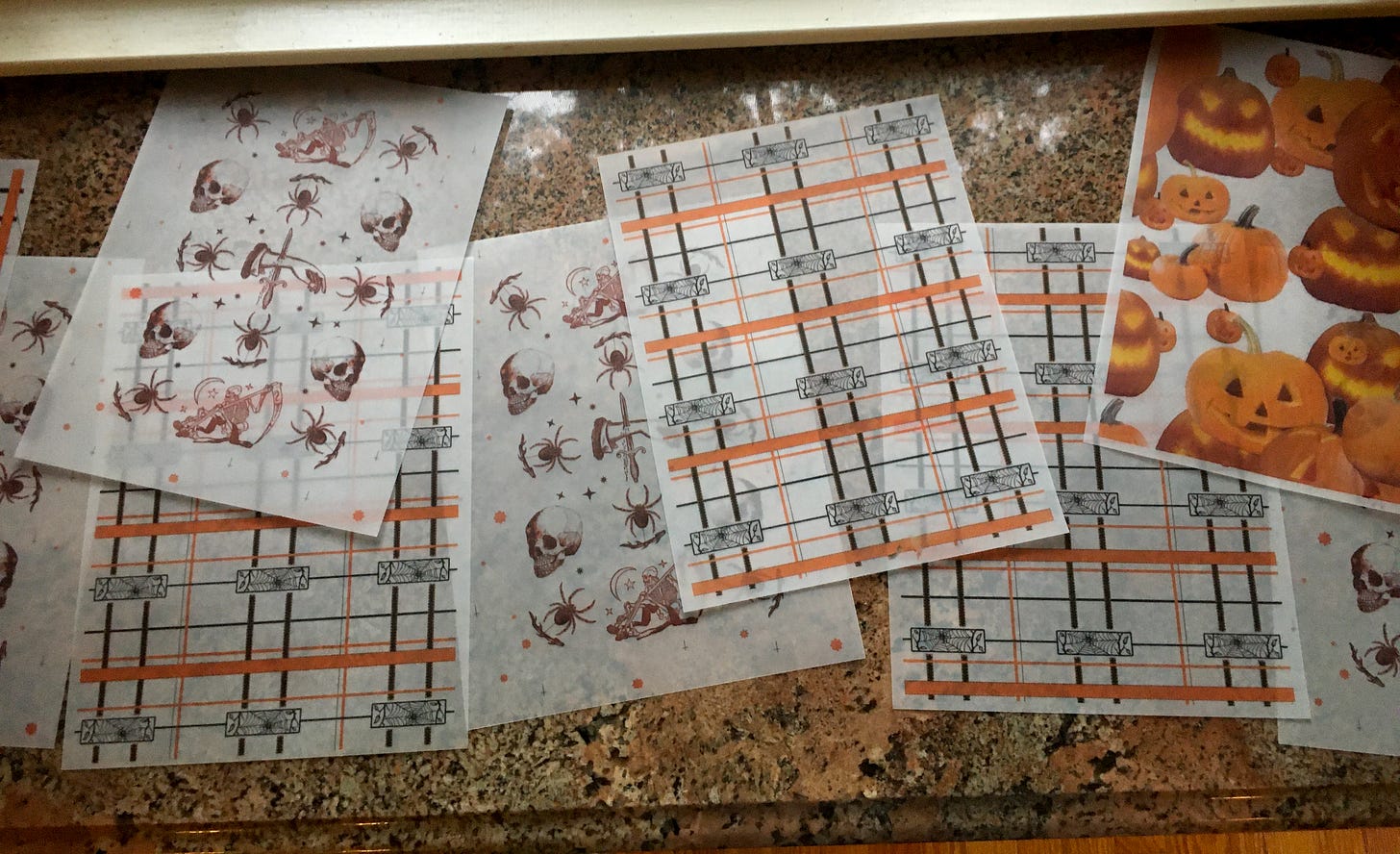 On right, semi-failed pumpkin collage. Too inky to survive, too haunted to die.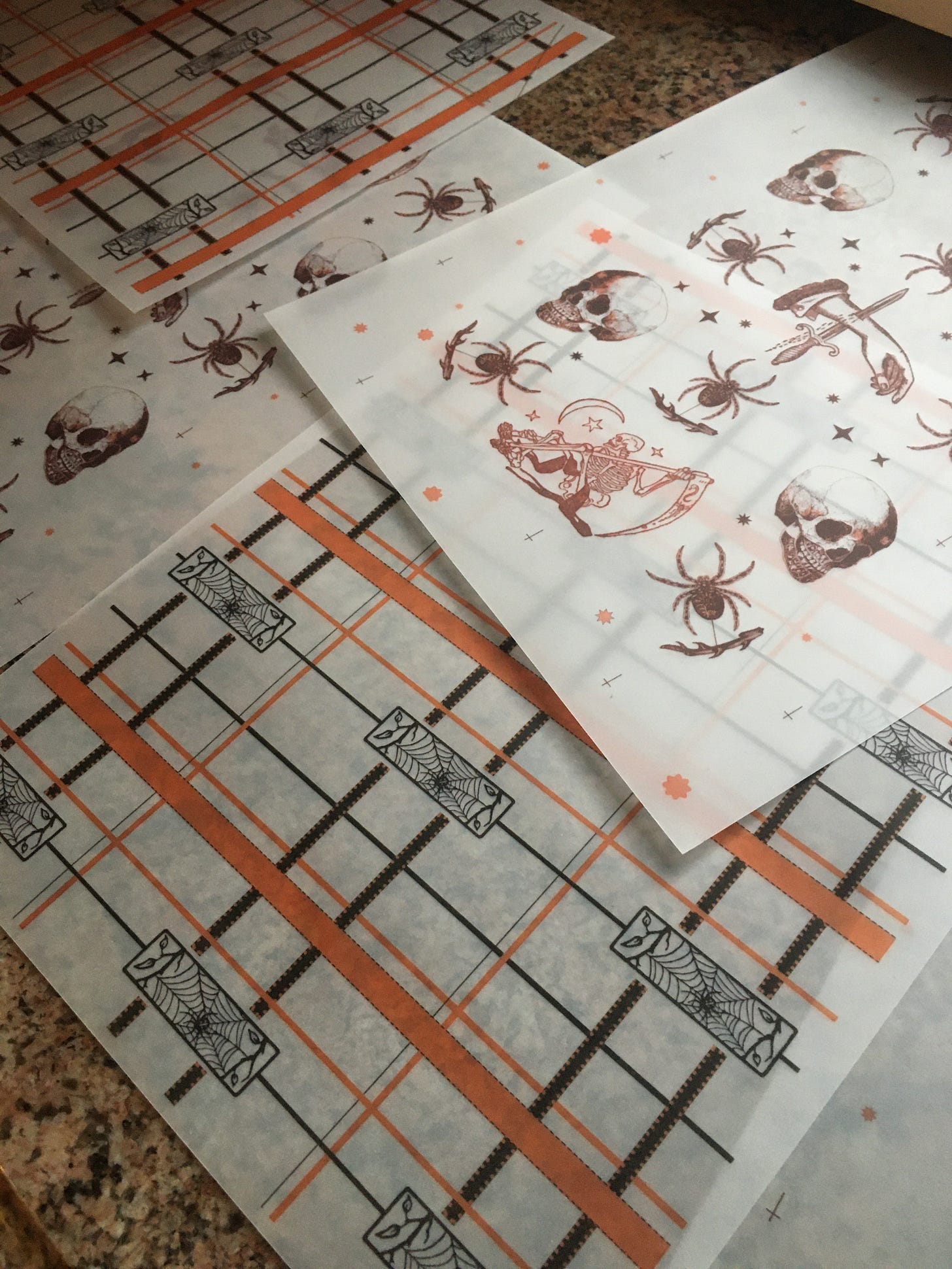 I plan to use this paper to make a few of the envelopes when I send out Halloween cards. (I'll try to remember to send out a sign-up form before September.)
Indoor Forest
This one I won't fully rig up until a) September 15 at the earliest and b) my much handier roommate, Raquel, returns from LA. The idea is to create dark, looming tree cover over my kitchen table, where the Hannibal-themed dinner party will take place.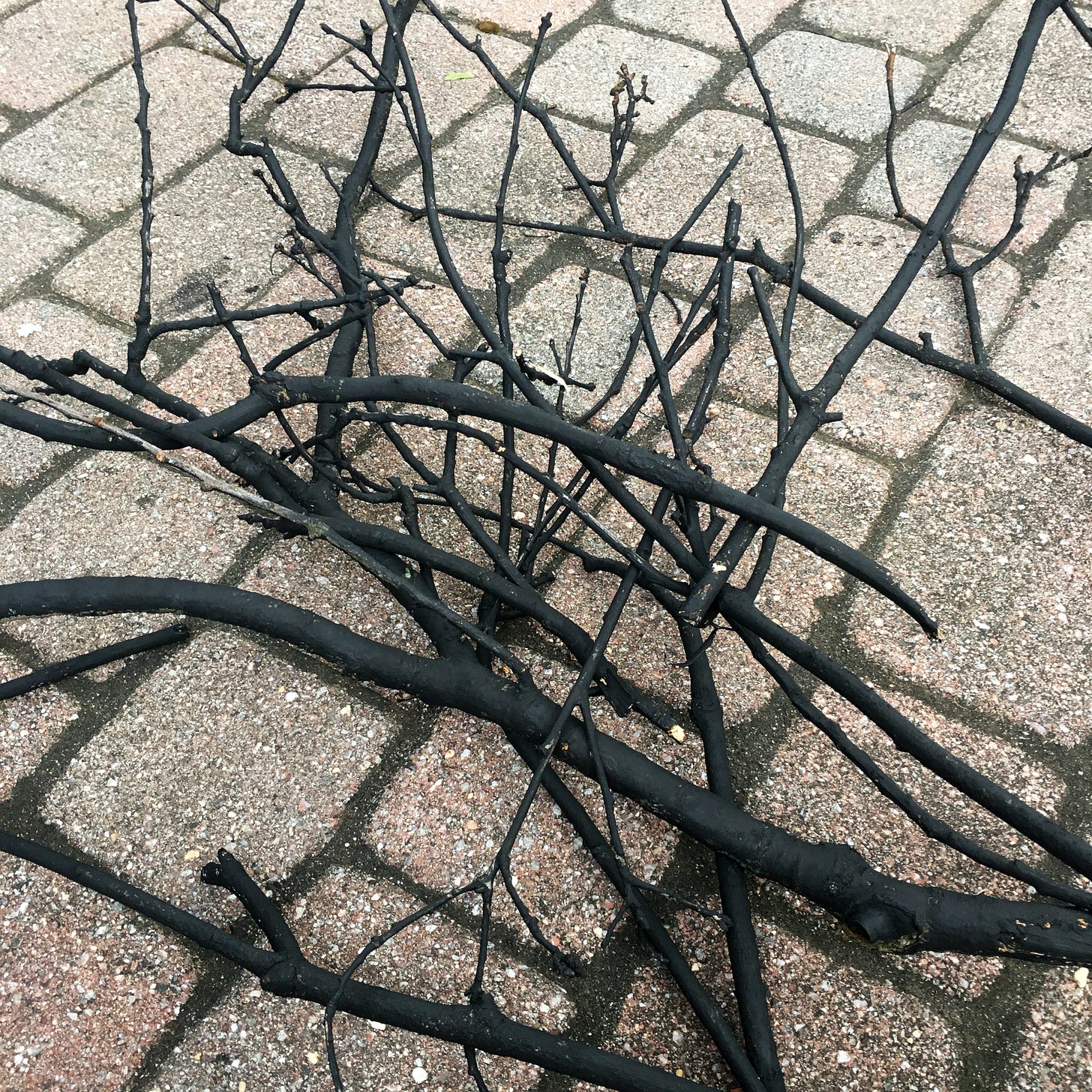 Why did it take me TWO HOURS to cover these branches in black acrylic??? I could not tell you. Now these branches are back in Brooklyn, and they will remain in storage for at least another month.
Haunted Miscellany
I cannot mention IT: Chapter Two without mentioning my friend Sophia made an entire IT: Chapter Two video game. I'm saving it for a little closer to ~the season~ when I have that candy corn buzz full-time.

A favorite Halloween-y music video: TEMPURA KIDZ vs. Charisma.com, "Zombie Killer"
Have a Halloween memory, tip, or link you'd like to share? Reply to this e-mail and I'll include it in the next letter!
🎃 HALLOWEEN COUNTDOWN: 76 DAYS 🎃