#4. halloween on every kind of budget
monetary! emotional! temporal! plus horror for every tolerance level
This week we have cheap, quick, and low-effort ways to get into the Halloween spirit, plus horror recommendations for people who don't necessarily like horror.
I didn't get the chance to craft this week. I picked up a branching jewelry stand from a stoop sale, and I'm thinking I'll paint it black and hang appetizers or cookies from its arms as a centerpiece.
I did customize my desktop background and icons to create a little Halloween-y scene. This is the first time my desktop background has been visible…ever. (I moved most of the files on the desktop into a new folder called Desktop, which now lives as a grim reaper behind a tombstone.)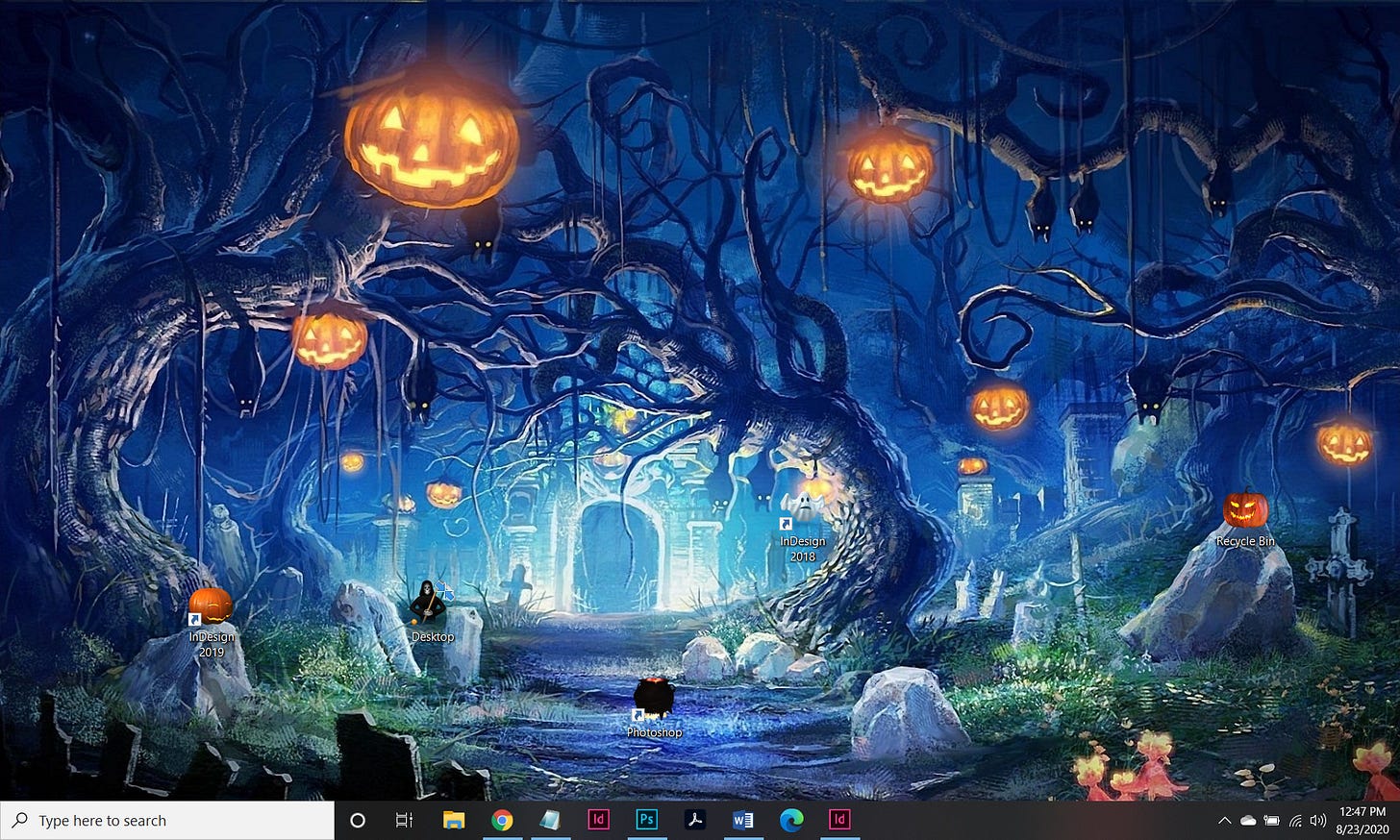 Halloween on five United States Dollars
I was going to take some scissors to a garbage bag and try to make something ghostly, but the week got away from me. Instead I'll point you to my favorite crafter ever.
Jodi Levine, the former editorial director of Martha Stewart Kids, publishes arts and crafts at super make it, where she uses mainly items from the supermarket. She's living a Project Runway unconventional materials challenge every day of her life. I aspire.
Just look at these shrunken, screaming apples. Why are we so attached to carving pumpkins when it turns out we can carve ANY FRUIT WE WANT?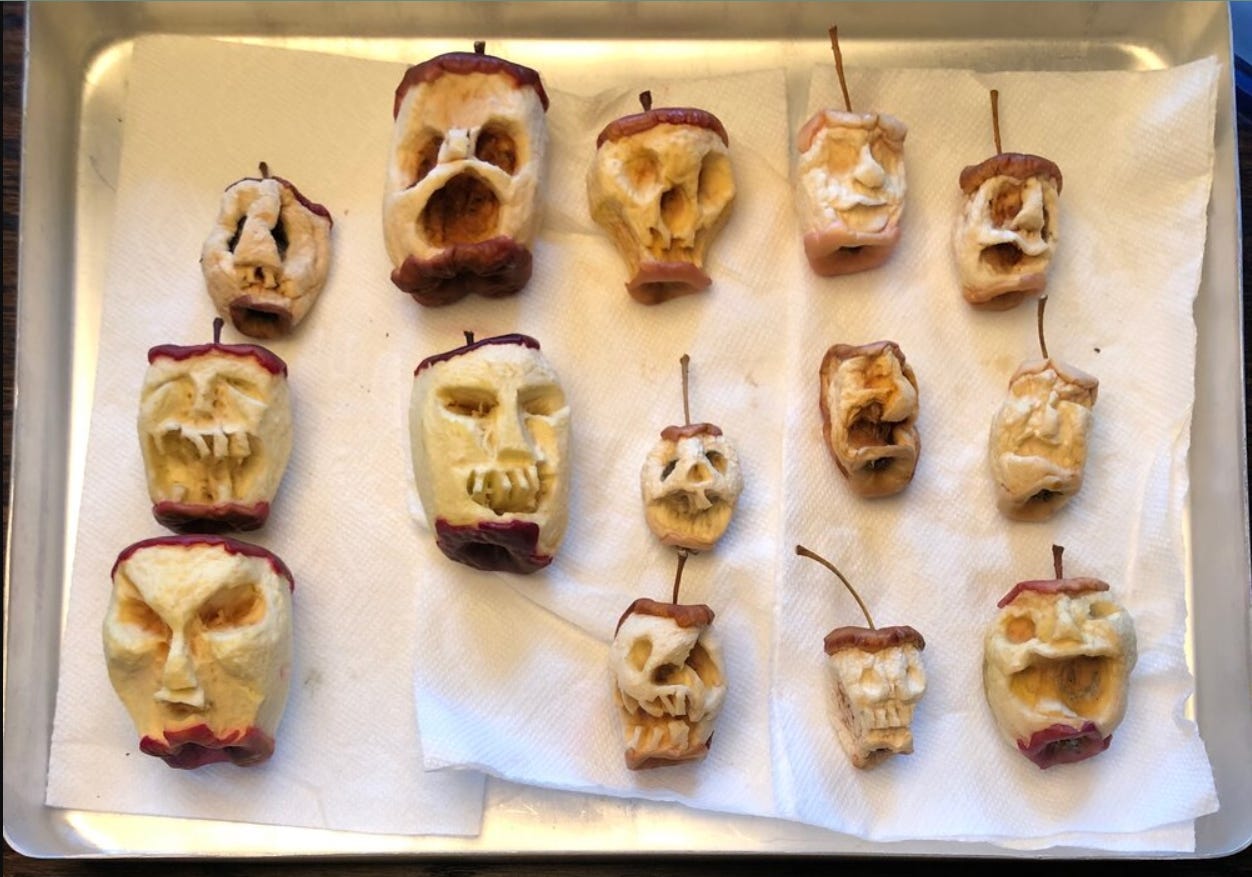 (src: Jodi Levine)
And there's this Stranger Things party. And these canned-lychee eyeballs. And a balloon jack-o-lantern so cute I can't stand it.
What I'm trying to say is: I appreciate your presence here, at this newsletter, when there are plenty of actual Halloween geniuses you should be listening to out there. Because the only five-dollar advice I'm gonna generate this week is to buy five Halloween-y items from those seasonal dollar bins at Target. You know, the ones by the entrance.
Halloween in five Earth minutes
Turn off the lights and light as many candles as you own (safely).
Search "Halloween SFX" and hit play. If you have a television screen or desktop, try one with a moving background, like the video below.
Heat up some store-bought apple cider on the stove with a heaping of cinnamon. Spike with dark rum or bourbon if that's where you're at emotionally.
Download a creepy book from your library app and read by candlelight in your makeshift ~Halloween paradise~.
Halloween five millimeters from the end of your rope
You have neither the means nor the motivation to participate in the cultural event of Halloween. The world is on fire. Everything is simply too horrible.
Well, good news! Things being horrible is scary and being scared is the stuff of horror. You are the protagonist of your own horror movie.
But while you wait for the call to come from inside the house/demonic possession/a scratching sound in the middle of the night, you should make like an exhausted, depressed final girl and mentally/physically check out for a little. Pull all the cushions off the couch, throw your comforter over the kitchen chairs, and curl up in a fort in front of the TV.
Put on a horror movie. I've listed a few below. If you don't have the energy for a full movie, try an episode of The Twilight Zone or a "Tree of Horror" anthology from The Simpsons. If you can't engage with a narrative at all, watch someone stream a horror game. Five Nights at Freddy's never disappoints. Eat popcorn.
Or maybe you're restless and bored to tears. Go for a run listening to like, haunted house sound effects and pretend you're escaping from zombies.
It doesn't really matter what you do; just do something and make it your own.
This is exactly and specifically what Sheryl Sandberg was talking about when she said women need to LEAN IN!!! If you're gonna live through a horror movie you should at least treat yourself like a main character.
Horror Options for Everyone
I love horror for the same reason some people love roller coasters. It's heart-pounding and frightening and simulates danger minus actual consequences.
Unlike horror stories, though, roller coasters make me sweaty and upset. I usually opt out. But every once in a while, I'm down for a wild mouse or runaway train.
If you feel about horror the way I do about Six Flags rides, but still want to get into the spirit with some creepy media, check out the options below, ranked by intensity.
No Fear, Halloween Vibes Only
Settle into a goth/autumnal mood like a warm bath
📚 We Have Always Lived in the Castle by Shirley Jackson: Orphaned, ostracized sisters go goth; a truly perfect novel.
📚 Something Wicked This Way Comes by Ray Bradbury: Creepy carnival comes to town with major autumn atmosphere.
📽️ ParaNorman dir. Sam Fell and Chris Butler: Stop-motion boy talks to ghosts in tourist town famous for its witch trials. Then Puritan zombies RISE UP.
IDK If I Like Horror
Stories use horror tropes but ultimately subvert them
📽️ The Host dir. Bong Joon-ho: A monster movie with a political bent from the Parasite director.
📚 Universal Harvester by John Darnielle: A video store clerk discovers eerie clips recorded over VHS rental returns.
🎮 Gone Home from The Fullbright Company: The perfect game for people who aren't sure if they like horror. Explore an empty house on a dark and stormy night. The developers added a setting to "turn on all lights" in the house in case you get too scared.
I Want To Be Scared, Not Scarred
Horror with a lot of personality
📽️ Jennifer's Body dir. Karyn Kusama: Unfairly maligned upon its release in 2009, now recognized as horror-comedy MASTERPIECE!
📽️ It & It: Chapter Two dir. Andy Muschietti: You've probably heard, but evil clown fuels small-town fear and bigotry. Lots of creative scares.
📚 "The Deepwater Bride" by Tamsyn Muir: Cthulhu comes to the town of a bored teen witch.
I Eat Ghosts for Breakfast
Horror for horror's sake
📚 Misery by Stephen King: Remember the hobbling in the movie? It's amputation in the book.
📚 Uzumaki Vols. 1–3 by Junji Ito: Spirals begin festering in small-town Japan, driving citizens mad. Body horror like crazy!!!
📽️ Hereditary dir. Ari Aster: The only movie that has ever truly scared me. If you haven't seen it, don't watch the trailer first. omg
Haunted Miscellany
Lindsey sent me this haunted charcuterie board which includes a prosciutto skull screaming in agony. If your Halloween dinner party will not be of the vegan variety please please please recreate those devastating Swiss cheese ghosts.

Are you doing a Buffy rewatch this Halloween season? Check out Buffy Phenomenon, which synthesizes data on the best and worst episodes and tries to predict how factors like air date, character presence, or writer affect episode quality.
Have a Halloween memory, tip, or link you'd like to share? Reply to this e-mail and I'll include it in the next letter!
🎃 HALLOWEEN COUNTDOWN: 67 DAYS 🎃