We went to Costco last weekend, and I got a big bag of candy to give out to trick-or-treaters. I'm going set it out on the steps even though I'm not sure trick-or-treating will be allowed this year. Nor am I sure children would want my stoop candy anyway. Just as likely someone will abscond with all six pounds of it, which is why I'm not going to use our punch bowl but instead a cardboard box trimmed with that fringed black streamer I made for my cake stand last issue. Whatever happens to that candy, I'm hopeful it will end up where it really needs to be. Go with god, Swedish Fish.
Signs Point to…Halloween
Many of my artistic endeavors rest upon this technique: a bunch of okay-looking things can synergize into a bigger, cooler-looking thing.
I'm not an illustrator, but I am a typesetter. I'm good at downloading lots of fonts, copying and pasting polygons, and respecting print margins. As important as it is to try new things, sometimes you just have to play to your strengths.
The menu is in progress! I don't know ANY French!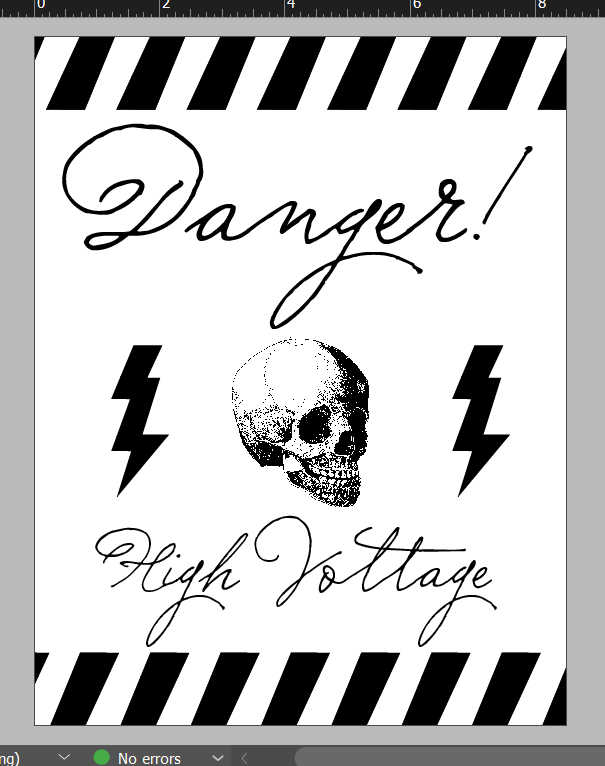 Per last issue's floor plan, our bathroom and bedroom doors will feature threatening signs.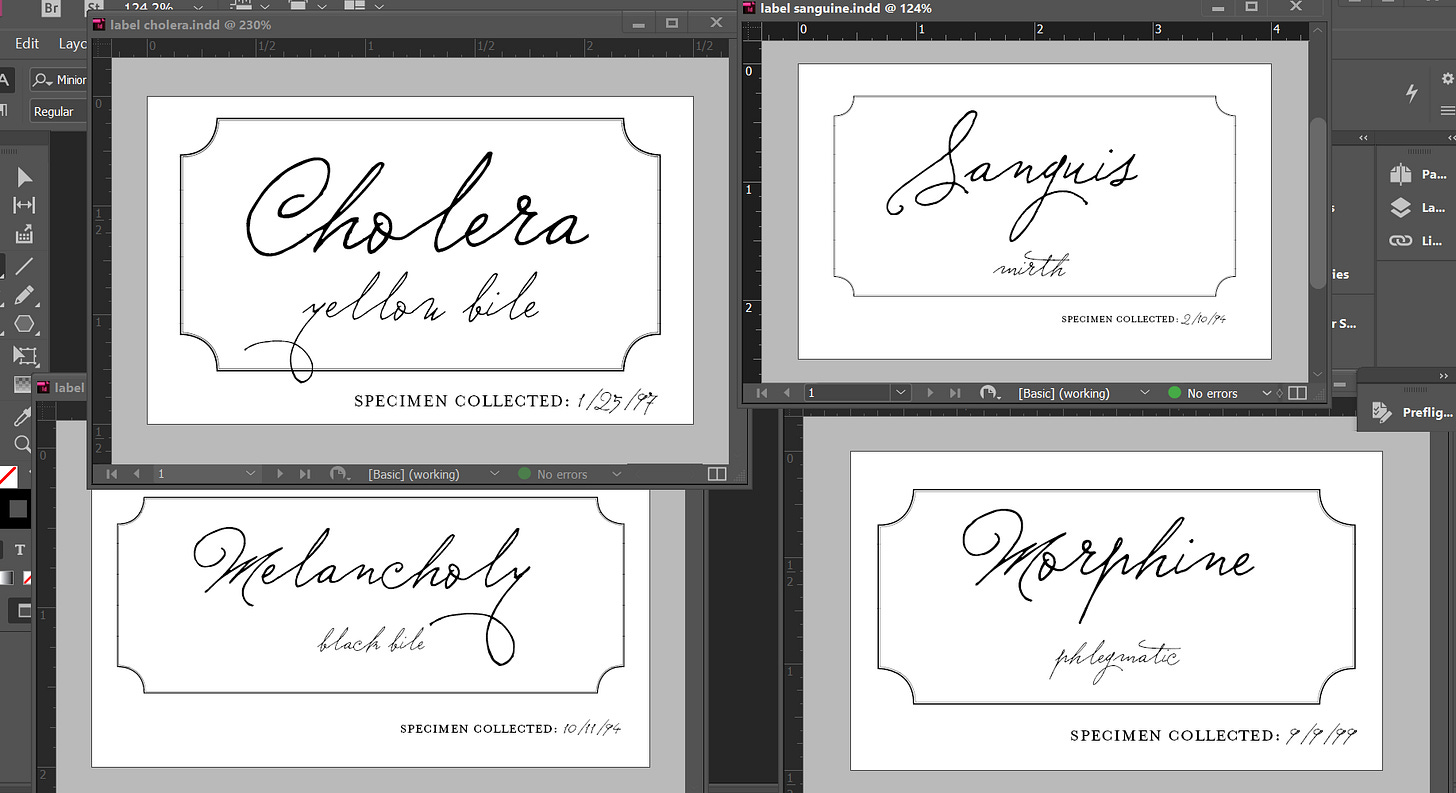 Labels for various ~elixirs~ and ~poisons~. Melancholy will be affixed to a mason jar into which my roommate Raquel poured burnt simple syrup several months ago. The syrup hardened into a glossy, black caramel stone; we've only kept the jar around for the Halloween times. Sanguis will label the deep red cocktail I plan to serve with dinner. Morphine and cholera receptacles TK.
I still need to finalize the menu, make more door signs, and come up with some place cards. Then I'll bring my economical black-and-white color scheme to iMail & More, a copy/salad shop down the street I'm obsessed with but have never actually patronized.
tl;dr These signs were fun & easy to make. And with just 30 to 50 percent quality, quantity can take you the final 50 to 70 percent.
It's Easy to Quit When Things Don't Work on the First Try, Which Is Why I Started a Newsletter (So I'm Forced to Keep Trying): A Cookie Recipe
If you looked closely at the menu above, you'll see I've figured out most of what I'll be serving at the dinner party. I've been most excited about the dessert course: hand-shaped Linzer cookies stabbed through with a shard of candy glass, red jam leaking through the gash. My idea seemed achievable yet impressive; visually impactful; a beautifully low ratio of EFFORT to OUTCOME.
Well………………………………IT WASN'T.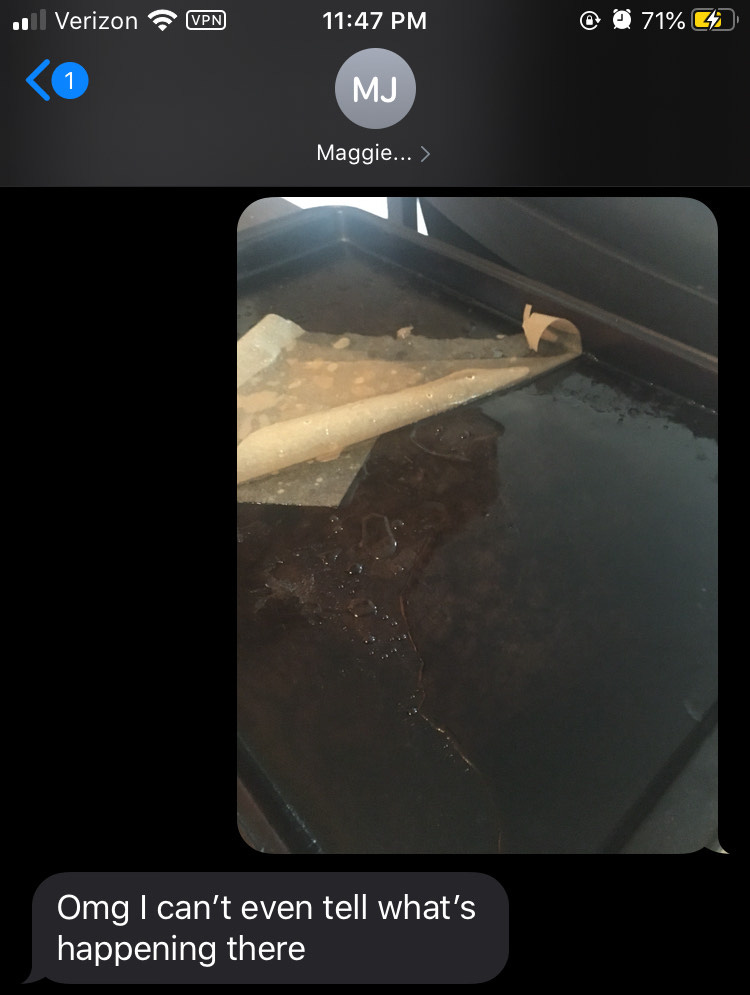 The broken glass candy took five batches, four trips to the store, three burnt fingers, molten sugar Pollocked across the kitchen, a shattered candy thermometer, my last remaining scrap of parchment paper used again and again, emotional support, an hour of scrubbing, and a fire alarm on repeat.
I mean, at least the failures were appropriately haunting:
IT'S ALIIIIIIVE!
I finally, finally got the sugar glass to 1) set and 2) not burn down my apartment late on Sunday evening. The key was NOT to let the sugar reach the prescribed 300°F (at least 300° per my thermometer, which I acquired on Sunday afternoon for $6 from a dusty hardware store). The clear, roiling sugar began to darken at 250°; when it hit 300°, it blackened instantly, and my kitchen filled with smoke. Cool SFX but not useful to me personally. On my last attempt, I poured out the sugar as soon as it started to yellow and let it set for an hour. Then I picked up the pan and dropped it to shatter the hardened "glass."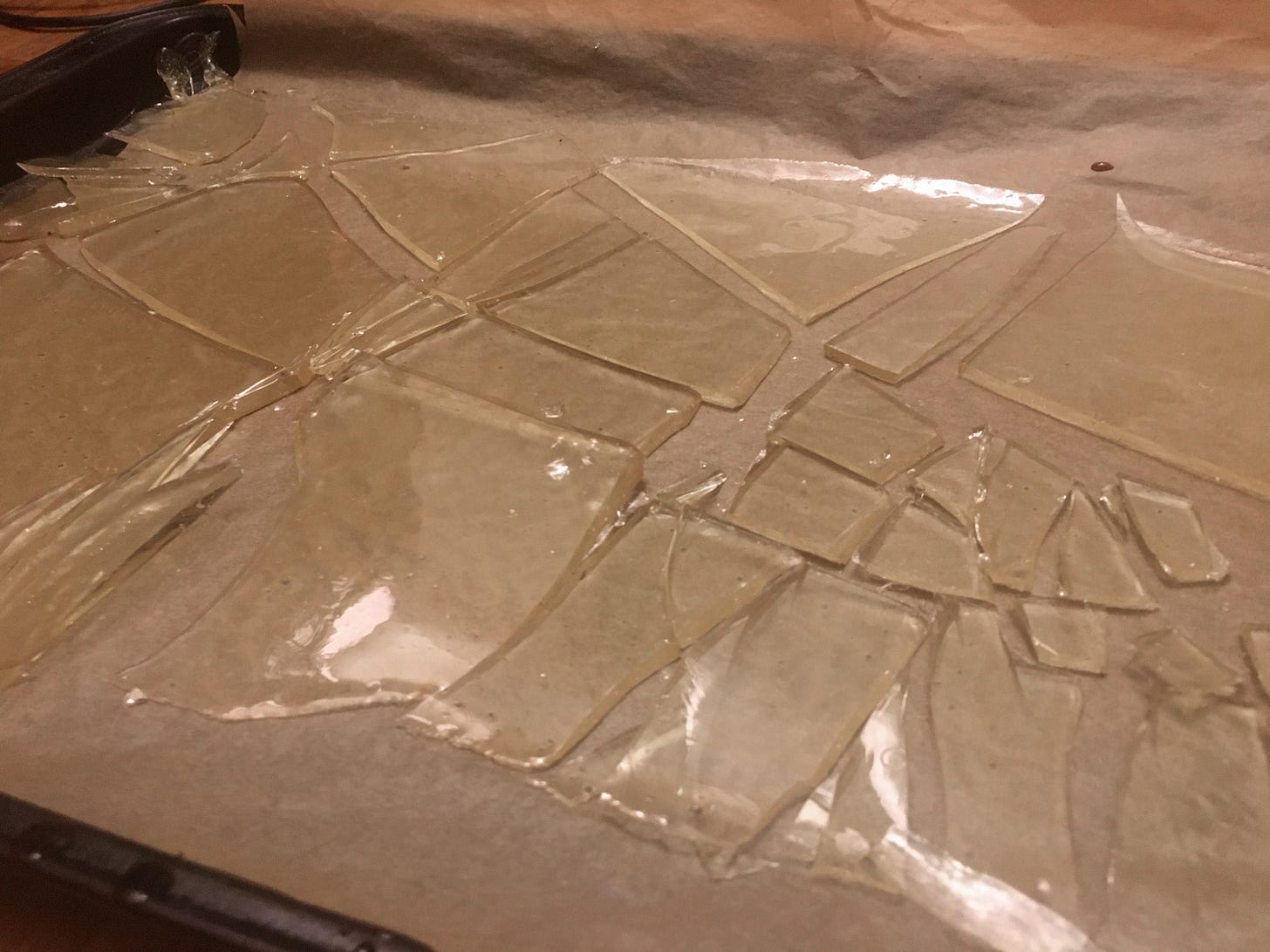 SUCCESS!!!!!!!!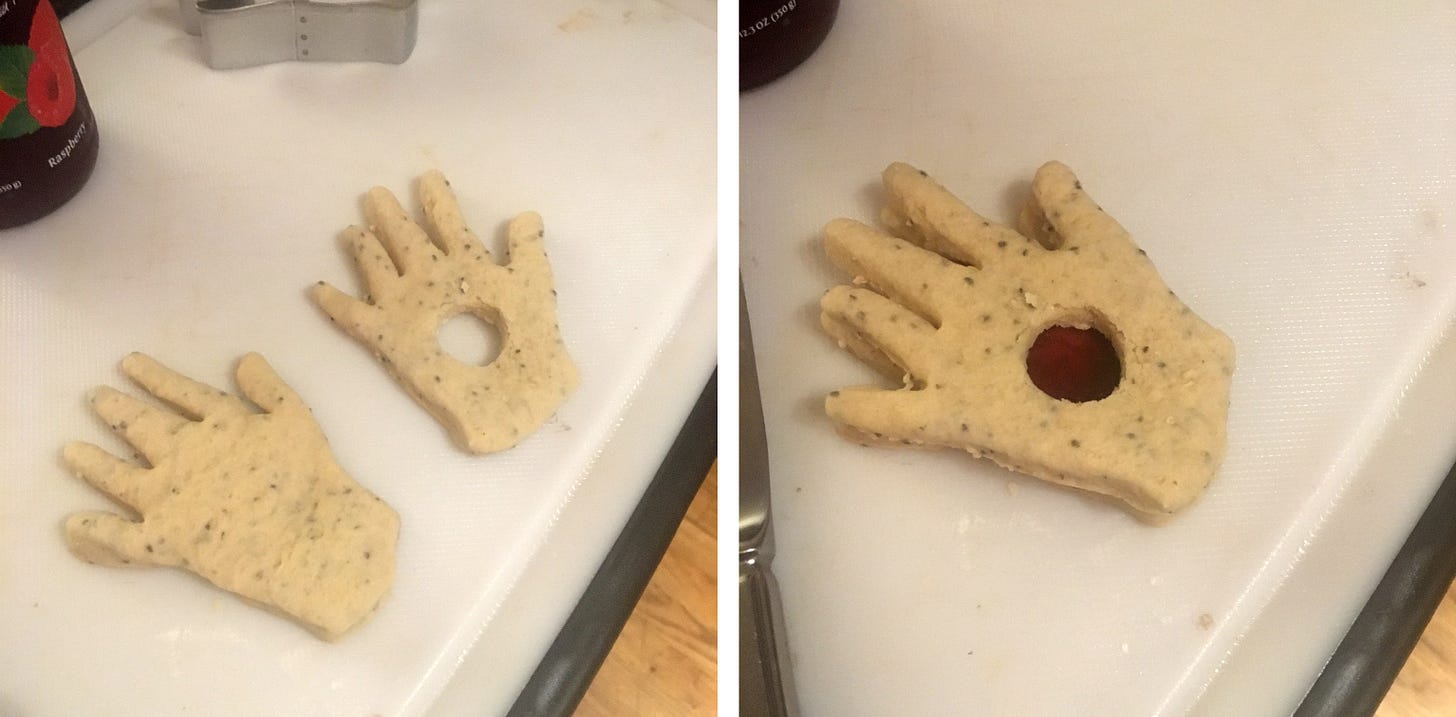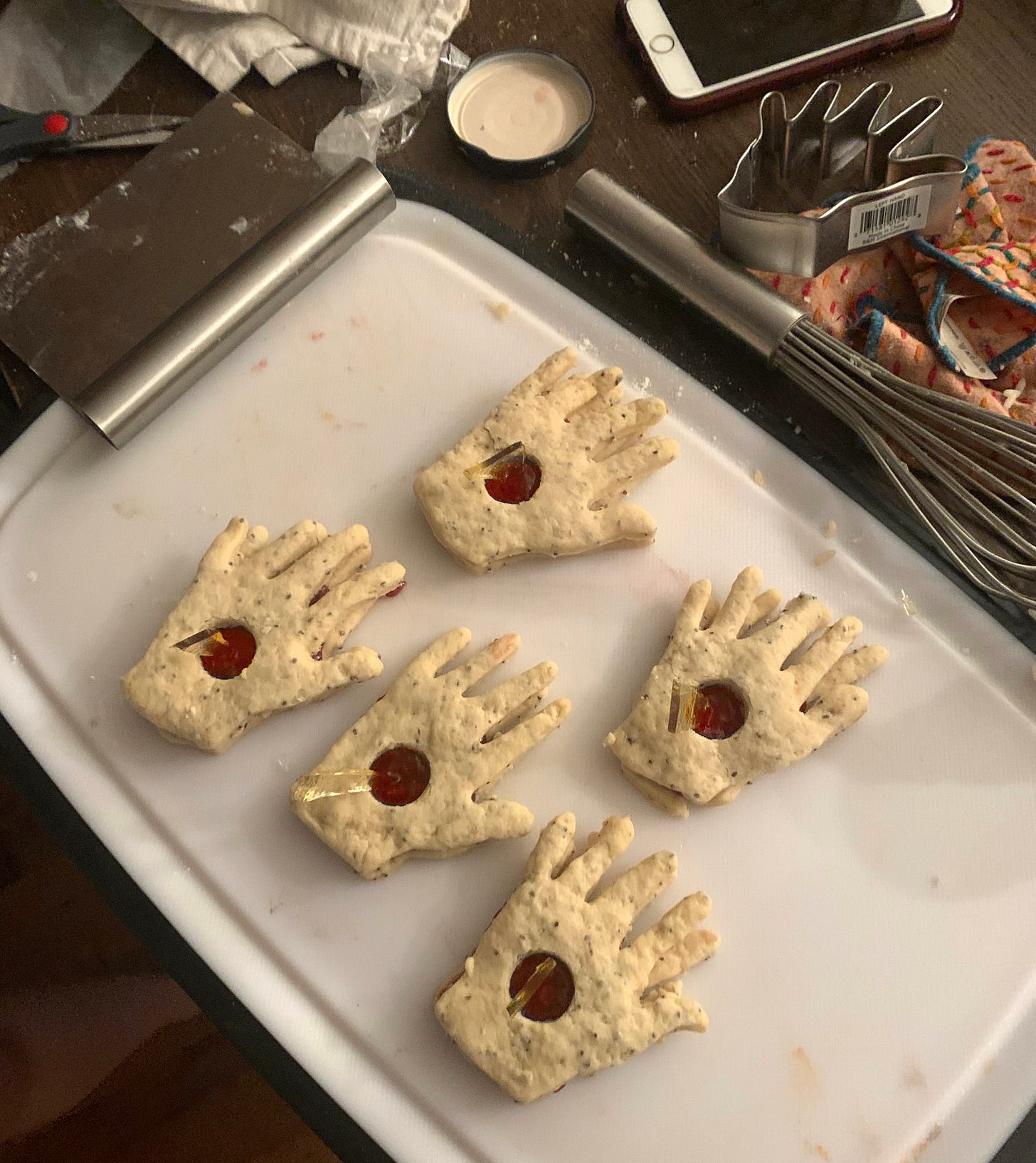 Here's the cookie recipe I used. The vanilla and almond extracts gave them a nostalgic Christmas-y flavor, and the ground chia texture was positively 💯. When I make the cookies again in October, I'll try to make the fingers less deranged.
I used no single recipe for the sugar glass, but these two were the most helpful (especially their comments sections, sans the many, many people who claimed this was "so easy!" and "fun for the whole family!"). And though this project gave me a lot of grief, I actually WOULD make it again, because standing at a bubbling cauldron made me feel real witchy.
Haunted Miscellany
Did you get this week's title? Let's get "DIGITAL"? Because I'm using a computer, but also because I made cookies with fingers aka digits? Digital cookies? I know you shouldn't explain jokes and that this barely qualifies as a joke. But since it's not funny regardless of explanation, I figured I'd just tell you, because I'm inordinately proud.

Flu shots are now available! Get yours ASAP.

If you're unable to acquire an IRL pumpkin this year, at least you can carve one online.

Have a Halloween memory, tip, or link you'd like to share? Reply to this e-mail and I'll include it in the next letter!

🎃 HALLOWEEN COUNTDOWN: 45 DAYS 🎃