Hi!!! This weekend I finally got to hang the decorations. I'm realizing now I forgot to photograph the pumpkins, but they're real, and they exist, and they're sitting on my stoop painted with black acrylic stars. (Just put black acrylic on literally whatever; that should be your primary takeaway from this newsletter.)
I just went to the grocery store and came across some pickled ginger. The delicate, pink layers of ginger packed into a jar had a visual effect similar to that of prosciutto, which I've been wanting to substitute, somehow, after seeing it used to great effect in other Halloween recipes. I was so excited I misread the label—I thought it was $2.99, but it was $7.39. AGH!!! Well, I'll figure out SOME fleshy use for it.
Scotch Tape, Hammer, Floss, and Hot Glue
And yes I still deserve my security deposit back at the end of this lease.
Save for a few elements that will be present only at the dinner party (including some long candles, menus, Dr. Lecter's cookbook, and a big linguini brain in that skull bowl pictured below), most of the decorations are up.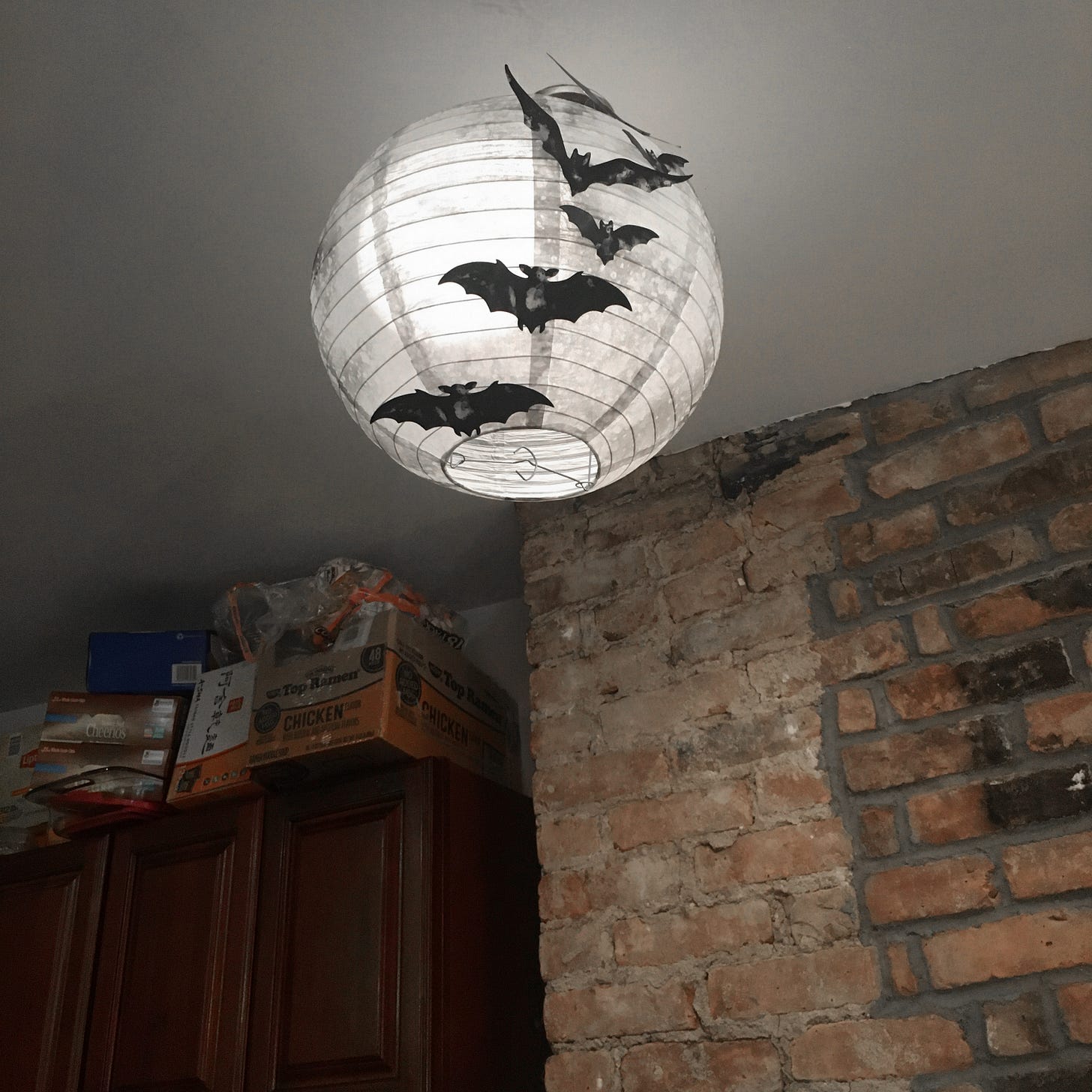 The biggest moon lantern, hanging over the kitchen counter.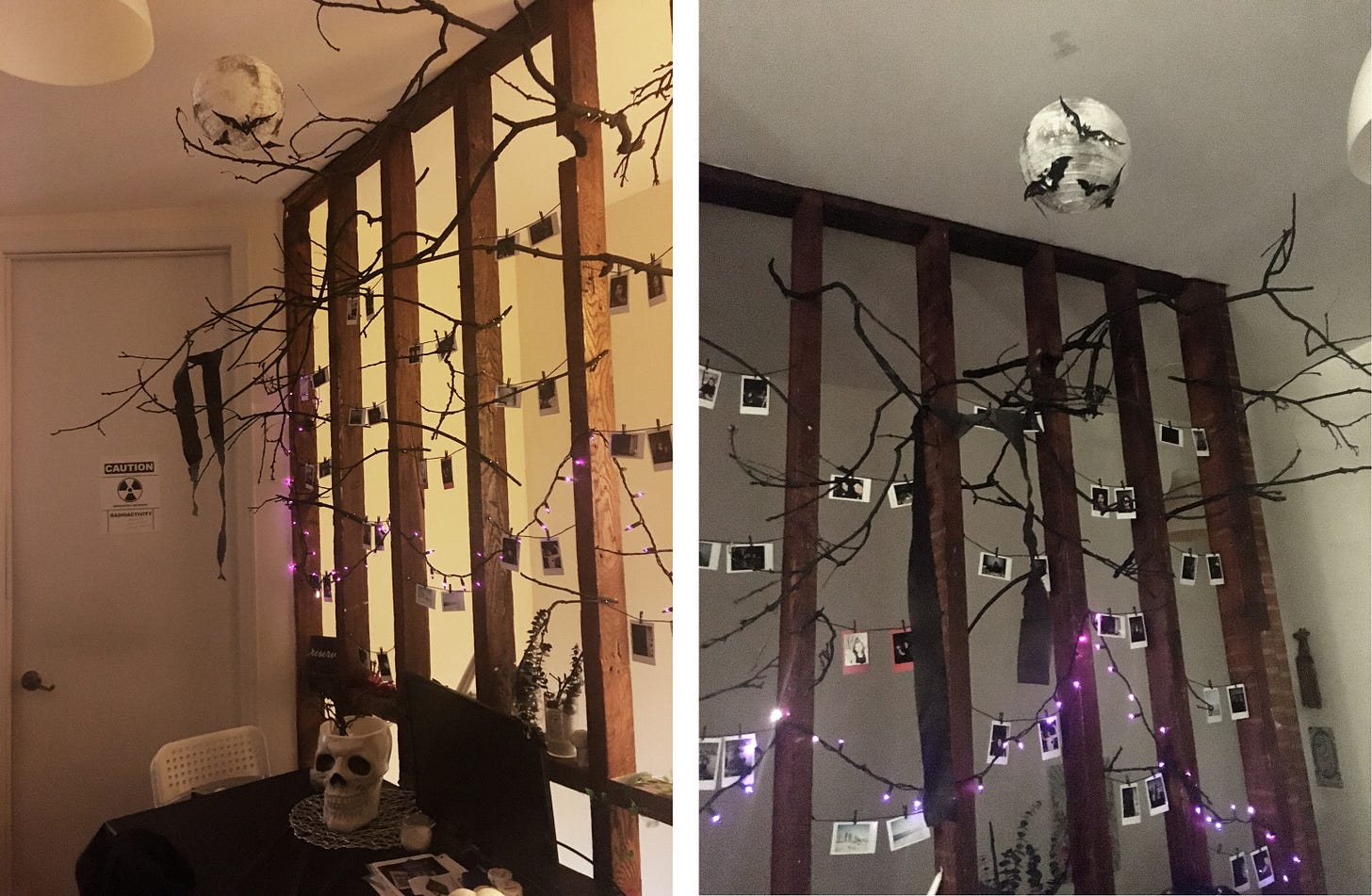 The forest above the kitchen table/my current work area. The smallest moon lamp hangs above the branches. I might drape some more streamers over the branches (maybe on October 30 as a Mischief Night substitute). In the background of the left picture, you can see one of the door signs, which warns of radioactivity, prohibits entry, and claims that nuclear waste does smell similar to cured pork do not enter pay no mind.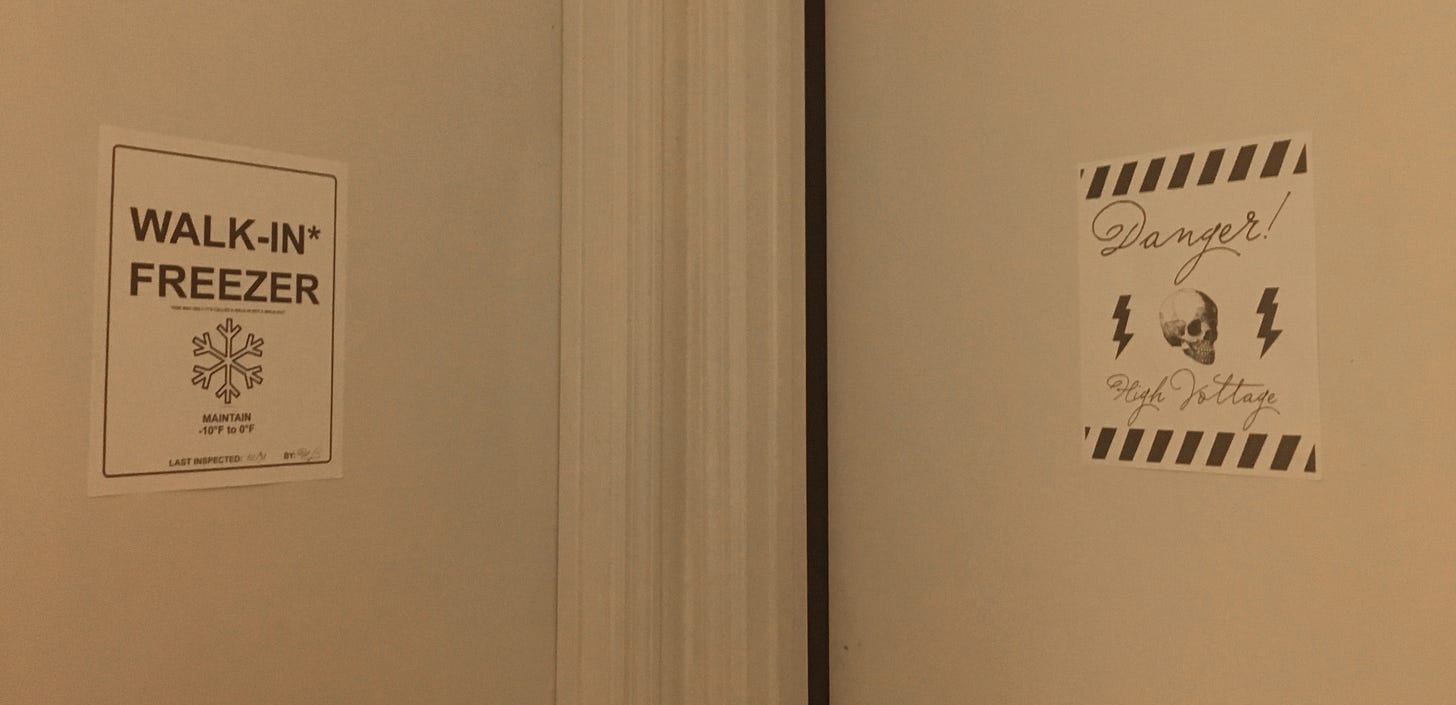 More door signs. The walk-in freezer's caveat is that there's no walk-OUT. 👻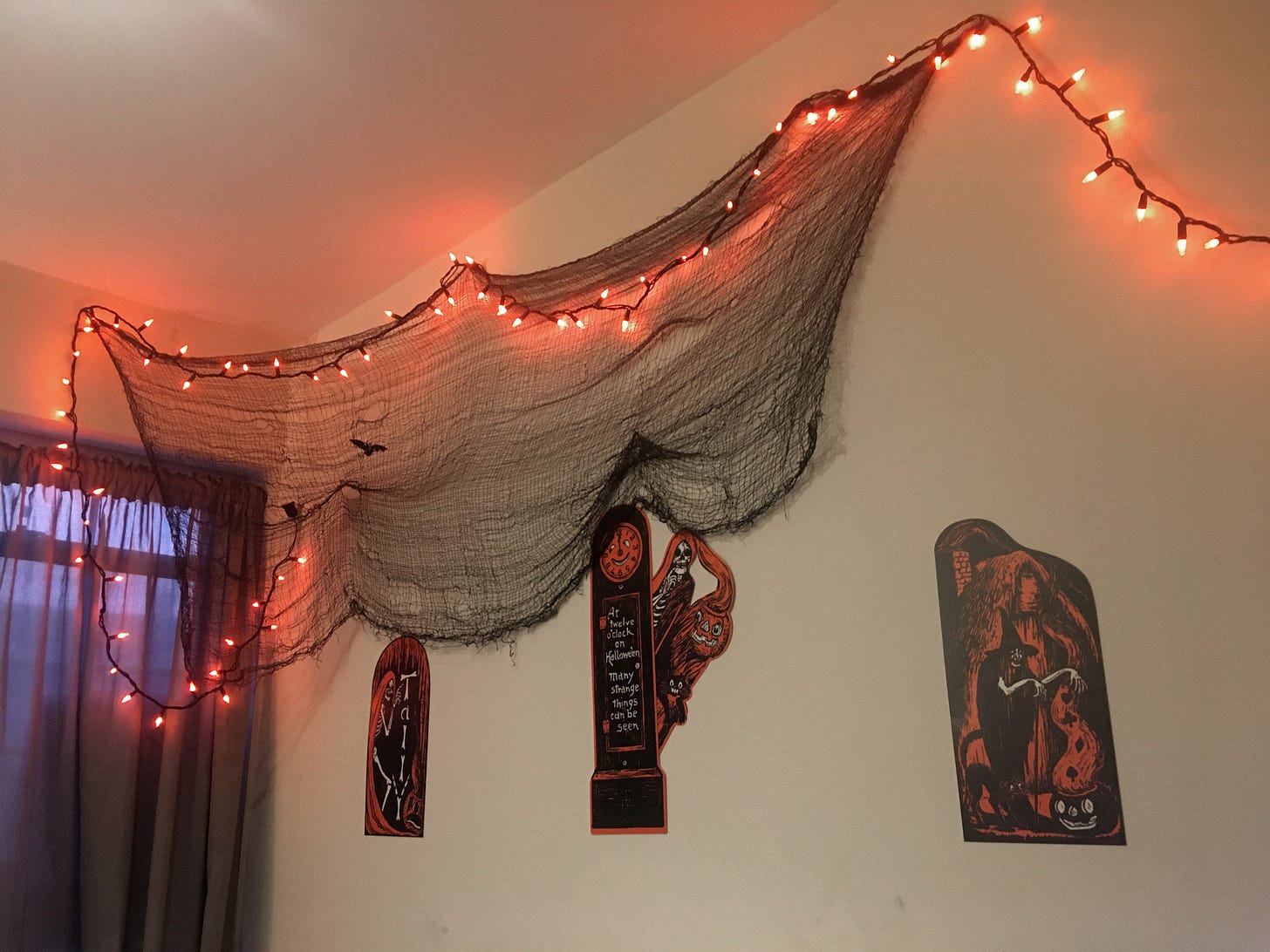 Orange accents (lights + vintage cards) above the couch. Creepy Cloth purchased for $1 at Family Dollar.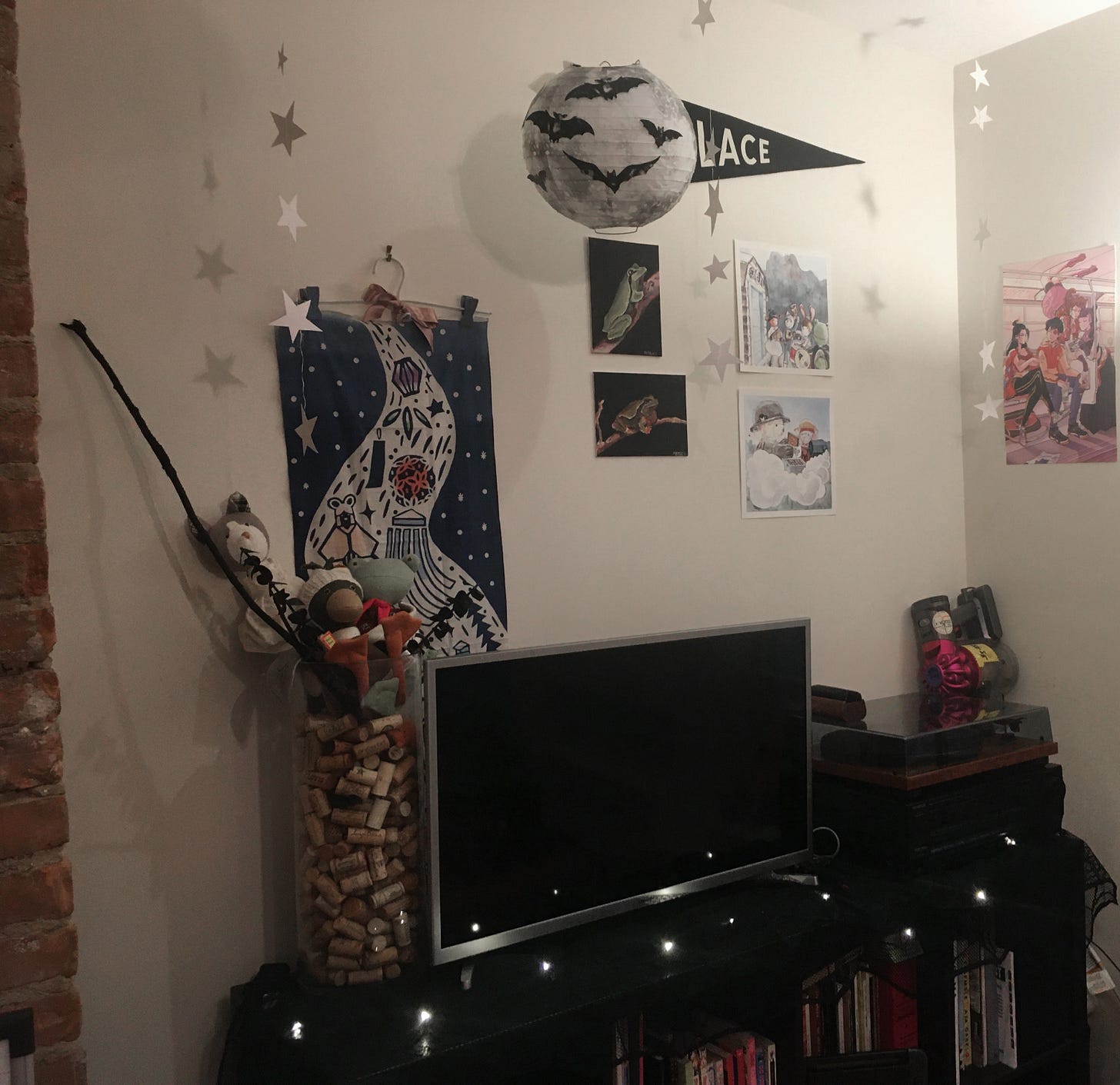 I hot-glued some paper stars to floss and hung the medium-size moon over the TV. The lighted spiderweb mantel on the stand is hard to see. TBH, I take terrible phone pictures and Photoshop ALL of them to be slightly less terrible.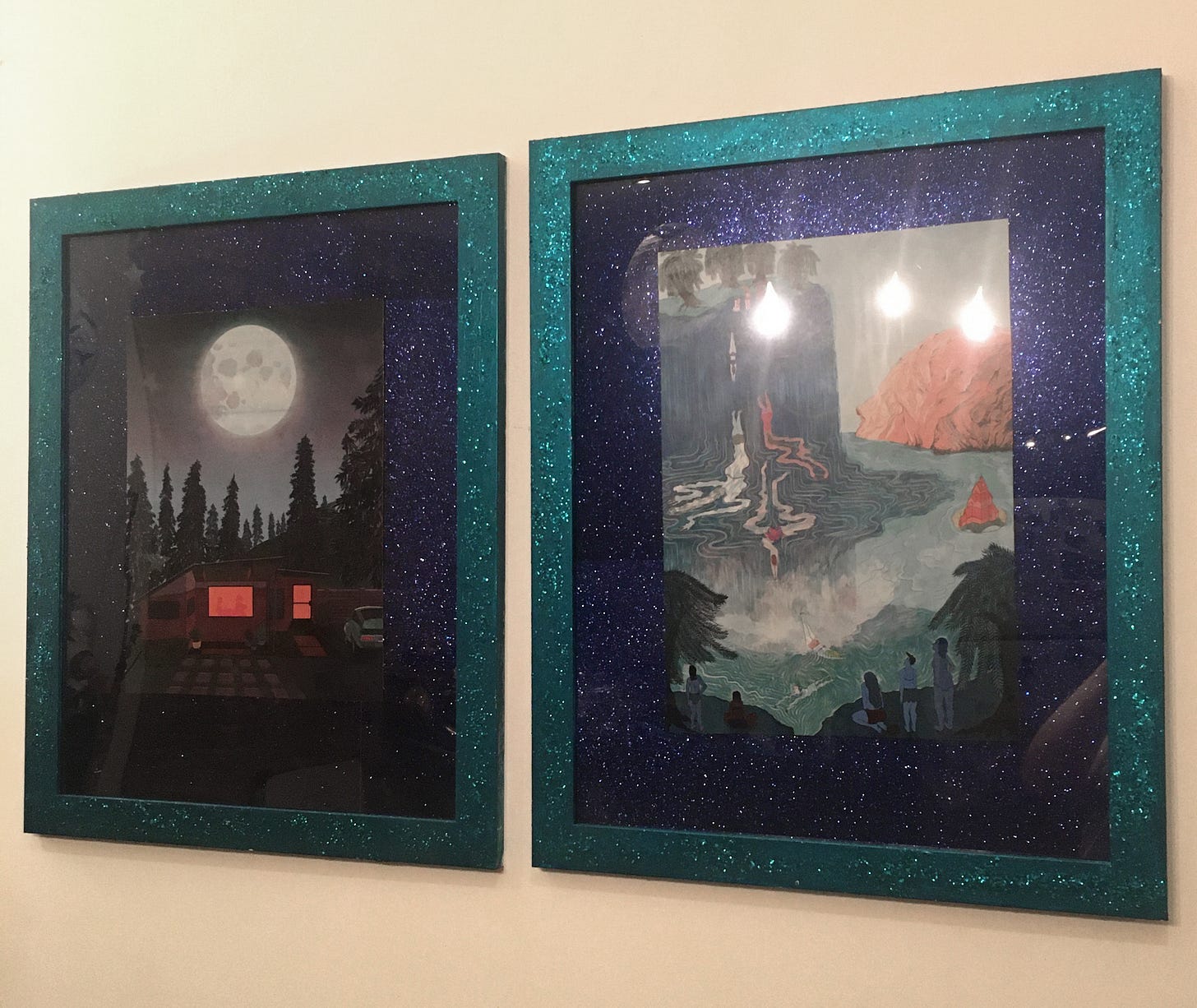 This is not a Halloween decoration. This is a craft I did that was underappreciated (perhaps MALIGNED) by my roommates. I painted and glittered these frames and matted two of my favorite prints on blue, sparkly paper. I think it looks great and is not an eyesore at ALL!
Anyway, that's all I've got this time. I'm still working on Halloween cards. I'm training to be a poll worker and doing lots of moonlighting in InDesign. I was prepared to spend October in anxious agony, but now I think that might not happen. But who knows??? Little is predictable. There's still time to freak out.
Haunted Miscellany
Did you know that not only is Get Out not on Netflix, when you search for it, you get a horror movie called Get In???? Who are they trying to fool????

My favorite horror game streaming series, Six Crazy Frights, is back for season four!
Have a Halloween memory, tip, or link you'd like to share? Reply to this e-mail and I'll include it in the next letter!
 🎃 HALLOWEEN COUNTDOWN: 27 DAYS 🎃