We're in the final stretch. Pumpkins have been painted. Four humors–inspired cocktails have been assigned to my mixologist roommate, Raquel (I'll still be making the canned lychee eyes). Halloween cards are SO CLOSE to done, oh my god, I really need to make a trip to the post office.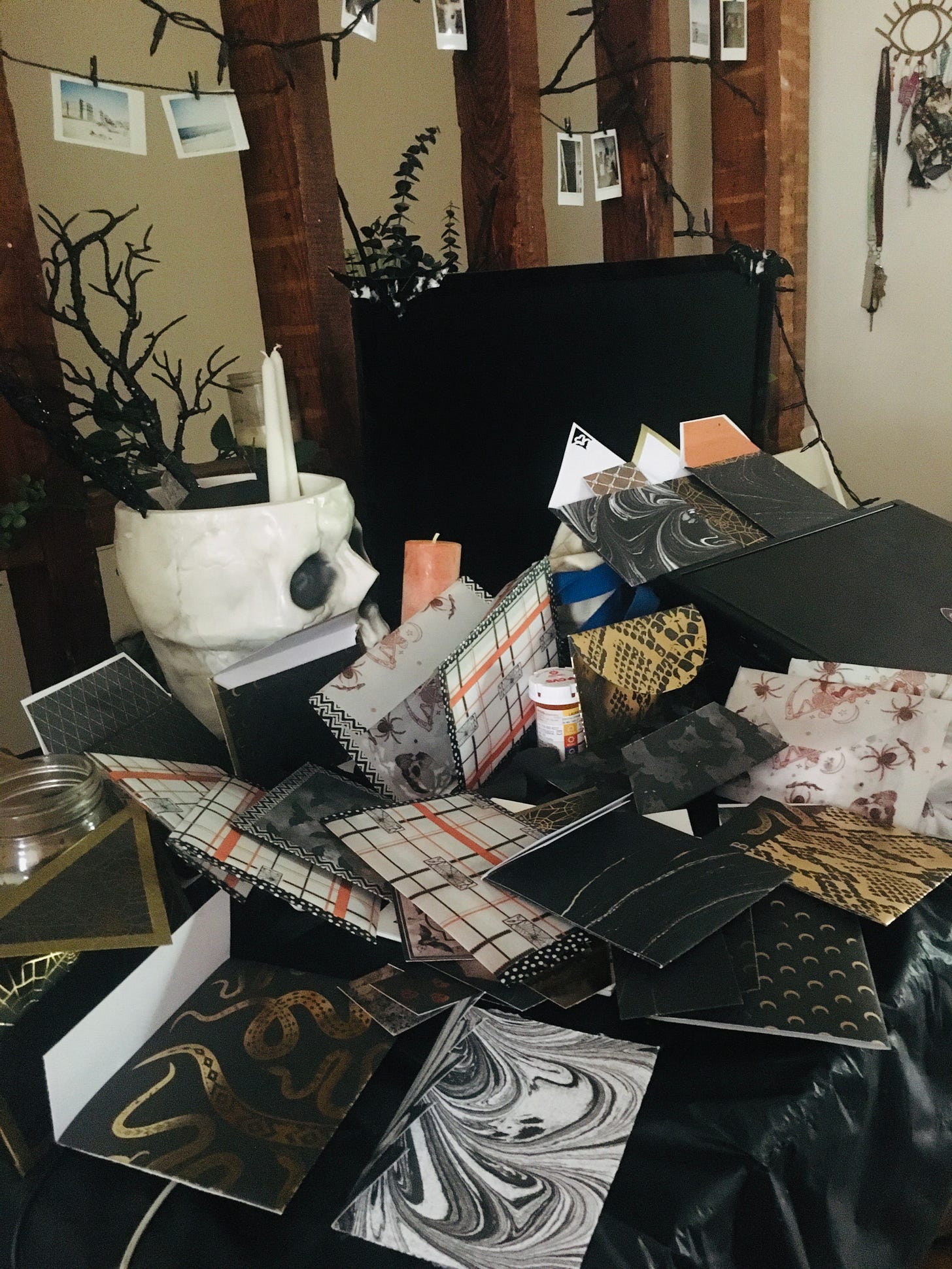 The pile o' cards GROWS
The Best Halloween Ever Costume
I definitely don't have the skills to devise the best Halloween costume ever. I am a GARBAGE sewer. But I can confidently do A costume for MY best Halloween ever.
My first recommendation is to dress up EVERY DAY OF THE WEEK leading up to Halloween!!! Other people don't even need to know you're wearing a costume. Think of your favorite TV characters, outfits based on your favorite or most impractical clothes, or events you were looking forward to in 2020. Such as:
Shiv Roy from Succession

Unspecified Kate Bush music video

Mets fan

Wrong holiday (Christmas sweater)

Prom but actually fun
Gotta be honest, though, we are seven months into lockdown and I am still wearing pajamas most days. If I convince myself not just to get dressed but to get dressed UP five days in a row, I'll be shocked.
I have committed to at least one costume: Elton John, or rather, Taron Egerton's Golden Globe®–winning interpretation of Elton John as seen in Rocketman (2019).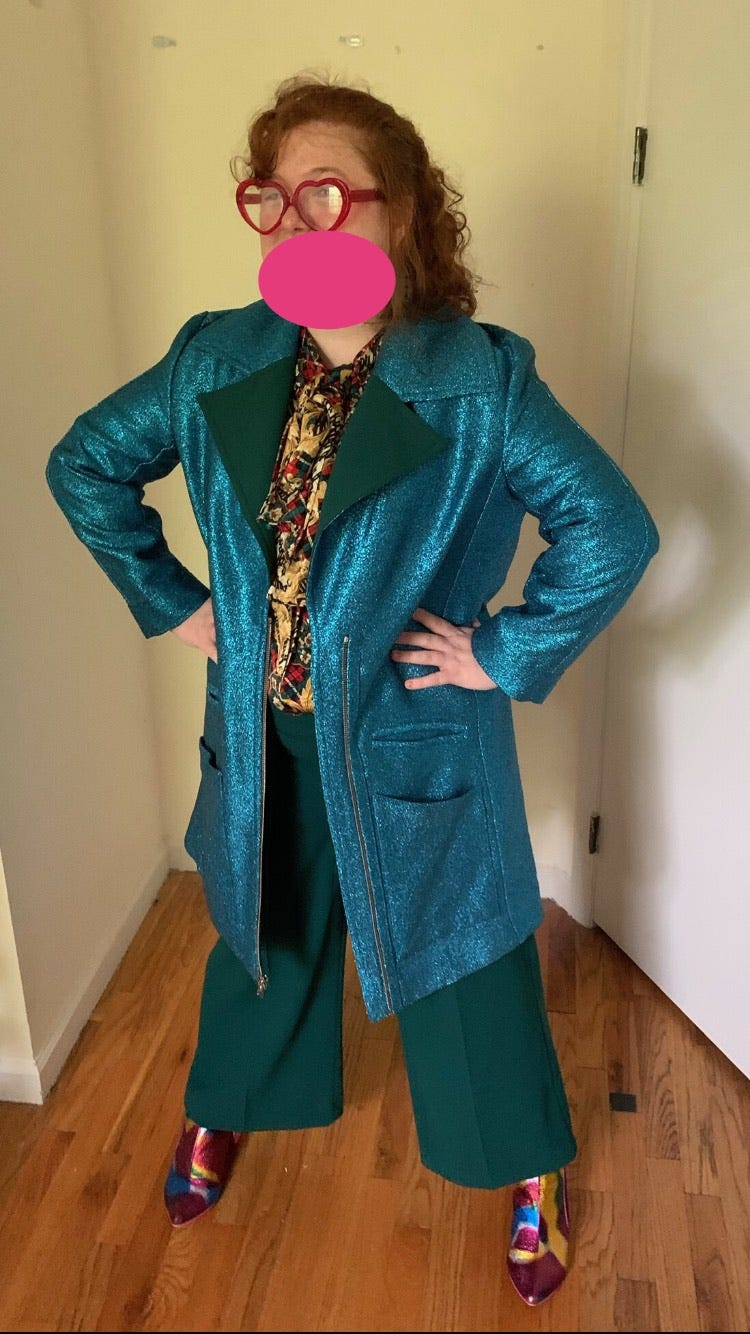 Prescription heart glasses, sparkly blue coat, vintage tie-neck silk blouse, big green pants, and metallic platform boots. Also a single dangly earring, which you can't see.
I'm sorry I couldn't summon the body-posi strength to show you the face I was making. I'm not a model. I'm a former model.
My sole client was Martha Stewart. My first job was a Halloween costume for a fall catalog. I was three or four years old. I dressed as a monarch butterfly and was paid in candy (it's also possible I was paid in dollars, but the candy was more exciting and has stuck with me). It's a pleasant, hazy memory with lots of yellow and trees.
As you may recall from #1's inventory, I got ahold of several seasonal Martha goods for the BHE. And I discovered this same costume collection appeared in Halloween, a 2001 hardcover compilation of costumes, recipes, and decorations. There were my preschool best friends, dressed in that same sunflower bonnet and lily-of-the-valley cap! Surely when I turned the page, I'd be next, wings and all!
Reader, I was NOT next. Upon closer examination, it seemed there was a second shoot…and I had been recast.
A few year later, I did a Martha Stewart Kids Halloween shoot as a Wheaties cheerleader. The skirt was made from cereal boxes cut into strips. I held orange and white pom-poms. It was fun to get paid to skip school, but by that age, it wasn't that fun to get my picture taken. The photographer was very friendly and maternal, but the attention gave me psychic hives. As the shoot went on, I became increasingly self-conscious about the peach fuzz on my legs. I should shave, I thought. Then I thought, No, I'm seven. I ate a bagel and fruit from craft services and knew my modeling career had come to an end.
This was around the time of the insider trading scandal, so the editorial never ran. The cute idea did not go to waste; several years later, I saw a younger girl dressed as a Wheaties cheerleader.
What Are You, Living Under a Deathrock???
One of the last fun things I did before the pandemic was a LES bar crawl with my girlfriend's college marching band friends. I cannot recommend a better way to blow off steam than someone else's drunken reunion. When you introduce yourself as someone's significant other, their eyes glaze over. As they should! You are nothing to these people; they are nothing to you. You can do (play Galaga) and say ("FUCK," after losing Galaga) whatever you want. The stakes could not be lower. Have fun.
I caught up with this reunion after seeing The Invisible Man, this year's highest-grossing horror film (lol), in theaters (also lol). Our first stop was a tropical black-and-neon bar I felt bad for finding cool because, honestly, the whole thing was a little South Pacific. There was a band playing in the back. Usually live bands' volume-to-quality ratio is too high for me, but I was JAMMIN'. These guys sounded like surf rock but goth. A Scooby-Doo episode but like scary. The Munsters' theme for people with major depression.
Last week, I started making a playlist of non–"Monster Mash" Halloween songs and got stuck after select Miss Anthropocene tracks and "Drac the Knife." Then I remembered that band and the bar. It turns out that yes, tiki bars have colonial baggage, and the music they were playing is called deathrock.
I don't have Spotify, so I can't share my own playlist, but I can at least leave you with a link:
Until next time,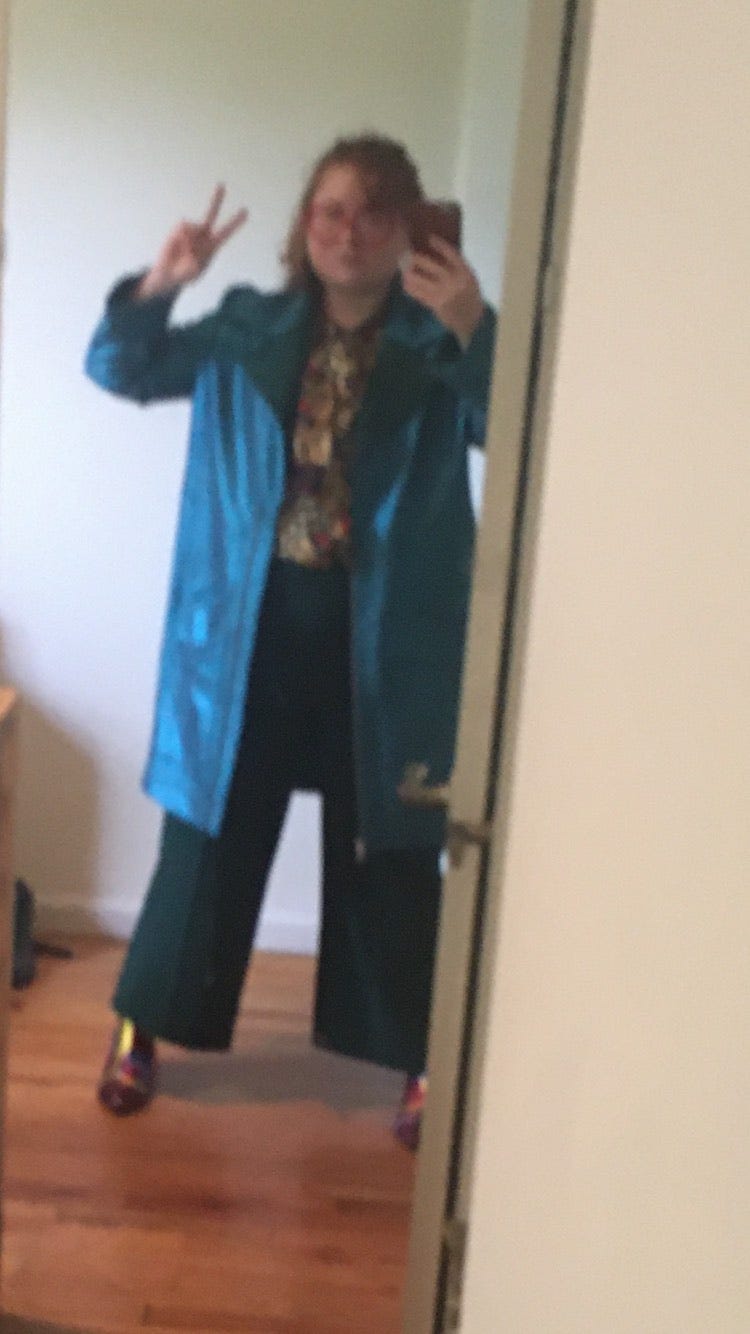 Cryptid Selfie Laura
Haunted Miscellany
In 2006, Martha Stewart Kids, the greatest magazine of all time, folded. I miss it every day.

I just realized I wrote "GARBAGE sewer," which obviously looks like SEWER, underground, and not SEWER, seamstress. LOL

Courtesy of Lindsay, Townsends' eighteenth-century Coffin Pies. If you have any leads on coffin-shaped baking tins, please send links their way.

Maggie's autumnal newsletter (Autumnal Newsletter) has launched with a BANG! Like a Halloween firework! She'll use the imperative voice—and you will like it.

Adam Sandler's Hubie Halloween on Netflix…is…GOOD, OBVIOUSLY

Have a Halloween memory, tip, or link you'd like to share? Reply to this e-mail and I'll include it in the next letter!

 🎃 HALLOWEEN COUNTDOWN: 17 DAYS 🎃